Fly with Ethiopian Airlines
Ethiopian Airlines is Ethiopia's flag carrier and is wholly owned by the Ethiopian government. Known early on as Ethiopian Air Lines, the national carrier was established some 74 years ago in 1945 by Haile Selassie. Ethiopian Airlines has been a member of the prestigious Star Alliance since 2011. It is also a key member of the African Airlines Association.
The Addis Ababa Bole International Airport (ADD) is the airlines' primary hub. The airline has an additional hub at the Lomé-Tokoin International Airport in West Africa. From these hubs, Ethiopian Airlines serves 125 destinations in America, Europe, Asia, and Africa.
It also offers freighter services to more than 40 destinations worldwide. This makes the airline the largest in Africa and one of the most important in the world based on destinations covered.
Ethiopian Airlines has a loyalty program called ShebaMiles. The frequent flyer program rewards travelers for all flights made 90 days before registration. Beneficiaries can earn rewards and also use them with Ethiopian as well as many of its hotel and airline partners.
Ethiopian currently owns a fleet of 125 aircraft ranging from Boeing 737-800 to Airbus A350. It carries approximately 10 million passengers yearly to popular destinations such as Newark – Accra (EWR-ACC), Newark – Lagos (EWR-LOS), Washington DC – Addis Ababa (IAD-ADD), New York – Lagos (JFK-LOS), New York – Accra (JFK-ACC), and New York – Abidjan (JFK-ABJ). Ethiopian was voted Africa's best airline in 2018.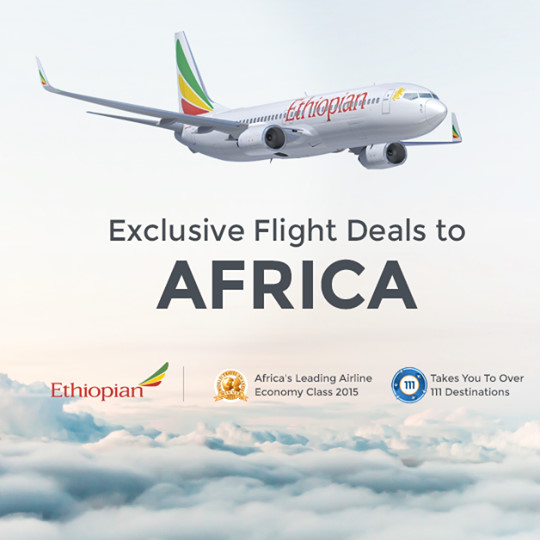 Ethiopian Airlines Travel Experience
Ethiopian Airlines offers two main cabin experiences for its travelers: Economy Class and Business Class (Cloud Nine). Travelers in each class receive hot meals as well as hot or cold beverages. There are in-flight magazines and tablet holders on some aircraft.
Economy Class
Economy Class travelers enjoy hot meals in addition to alcoholic and non-alcoholic beverages. Each traveler gets the full complement of Ethiopian cuisine, including a side of Injera, the Ethiopian national dish.
Business Class
Also called Cloud 9, Ethiopian Airlines' Business Class offers extra baggage allowance as well as priority boarding. Travelers also have exclusive access to the C9 lounge services at Addis Ababa Airport Terminal. On board, you can enjoy the trademark Ethiopian dish of Injera stuffed with spiced meats and vegetables. There is extra legroom for travelers and the seats recline to form comfortable beds.
Lounge
Ethiopian Airlines has a flagship lounge at the Addis Ababa Airport Terminal, Ethiopia. With premium Ethiopian hospitality in an open air bar, business center, and a relaxation room, travelers are guaranteed the very best of services before flight.
There is also the Sheba Miles Lounge where loyalty card holders with Gold or Silver status receive elevated service before departure. The lounges come with wireless connections and personal computers for business travelers.
More benefits from flying with Ethiopian Airlines
Ethiopian Airlines Check-in & Baggage
Travelers on Ethiopian Airlines are allowed at least one carry-on bag as well as a personal item such as a laptop, purse, or a briefcase. Business Class flyers get an extra carry-on bag in addition to the personal item.
Online check-in starts from 36 hours before departure to 2 hours before take-off. Physical check-ins are open 3 hours before departure and close one hour before departure. Travelers are allowed two checked-in luggage as well as two carry-on articles.
Ethiopian Airlines Baggage Information
Allowed Luggage per Cabin Class
Business Class (Cloud 9)
Both Economy and Business Class passengers get at least two checked-in bags. Additional luggage come at additional costs.
checked luggage X 2 pcs (each up to 70lbs/32kg)
carry-on luggage X 2 pcs (each up to 7kg)
Personal item X 1 pc (up to 5kg)
Economy Class
checked luggage X 2 pcs (each up to 50lbs/23kg)
carry-on luggage X 1 pc (up to 7kg)
carry-on luggage X 1 pc (up to 5kg)
Allowed luggage size dimensions
carry-on size 23 cm x 40 cm x 55 cm
checked luggage 62 in
Additional information
Additional bag: $200
Excess baggage: $260 per piece
Overweight: $60 – $220
Infants are entitled to one free checked baggage of 23 kg (50 lbs).
Sporting equipment that meet the baggage allowance and dimensions can be carried as one of two free items.
Travelers may carry to the cabin a collapsible wheelchair, crutches, or any prosthetic device.